China's engagement with Brazil since 2000: Key actors, strategies and conflicts
About "Virtual Engagements on Global China" Speaker Series
This public lecture series features international scholars and experts on a wide range of topics related to China's global presence and impacts. Each seminar will begin with a 30-min presentation, followed by another 30 mins of Q&A. The series is free and open to the global public. Participants must register before each seminar.
"VIRTUAL ENGAGEMENTS ON GLOBAL CHINA" SPEAKER SERIES :China's engagement with Brazil since 2000: Key actors, strategies and conflicts
Gustavo de L. T. OLIVEIRA (Assistant Professor, Department of Global and International Studies, University of California)
9th March 2021 12:00 (HK) / 8th March 20:00 (PST)
Format: Zoom Webinar
Language: English
Please REGISTER HERE to secure your place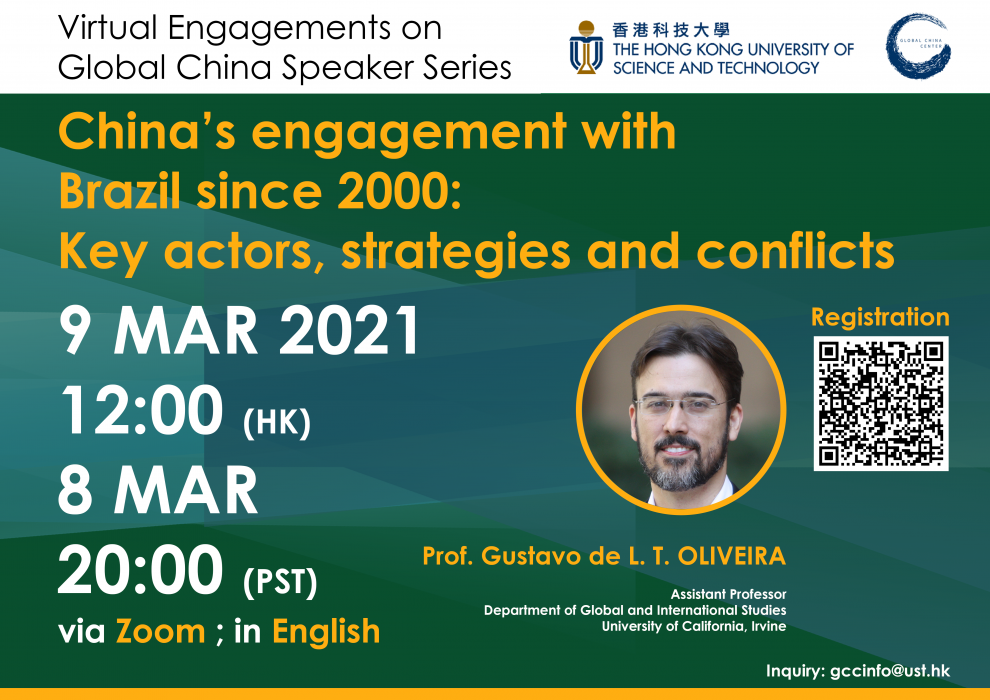 Abstract:
Brazil is China's largest trade partner in Latin America, exporting petroleum, iron ore, soybeans and other agricultural commodities in exchange for manufactured products from China. This mushrooming bilateral trade triggered massive Chinese investments in Brazil, yet diplomatic ties have frayed and Brazil hasn't joined China's Belt and Road Initiative. This talk outlines the key actors and interests shaping this relation, arguing their strategies align in advancing an eco-modernist partnership that transcends current diplomatic controversies. The real problems at stake, therefore, emerge from political ecological conflicts within China and Brazil themselves that become aggravated when state and corporate interests from both countries align in a strategic partnership.
About the speaker:
Dr. Gustavo de L. T. Oliveira obtained his PhD in geography from the University of California Berkeley, and worked at Swarthmore College and Peking University prior to his appointment at the University of California Irvine. His research focuses on Chinese investments in Brazilian agribusiness and infrastructure and global political ecology. He is co-author of Soy, Globalization, and Environmental Politics in South America (Routledge, 2018) and co-editor of a special issue of Political Geography on China's Belt and Road Initiative.