China and Africa's industrialization aspirations: a labour perspective
About "Virtual Engagements on Global China" Speaker Series
This public lecture series features international scholars and experts on a wide range of topics related to China's global presence and impacts. Each seminar will begin with a 30-min presentation, followed by another 30 mins of Q&A. The series is free and open to the global public. Participants must register before each seminar.
"VIRTUAL ENGAGEMENTS ON GLOBAL CHINA" SPEAKER SERIES :China and Africa's industrialization aspirations: a labour perspective
Prof. Carlos OYA (Professor of Political Economy of Development (SOAS, University of London) and Adjunct Professor at College of Humanities and Development, China Agricultural University (Beijing).
15th March 2021 (Mon) 20:00 (HK) / 12:00 (London)
Format: Zoom Webinar
Language: English
Please REGISTER HERE to secure your place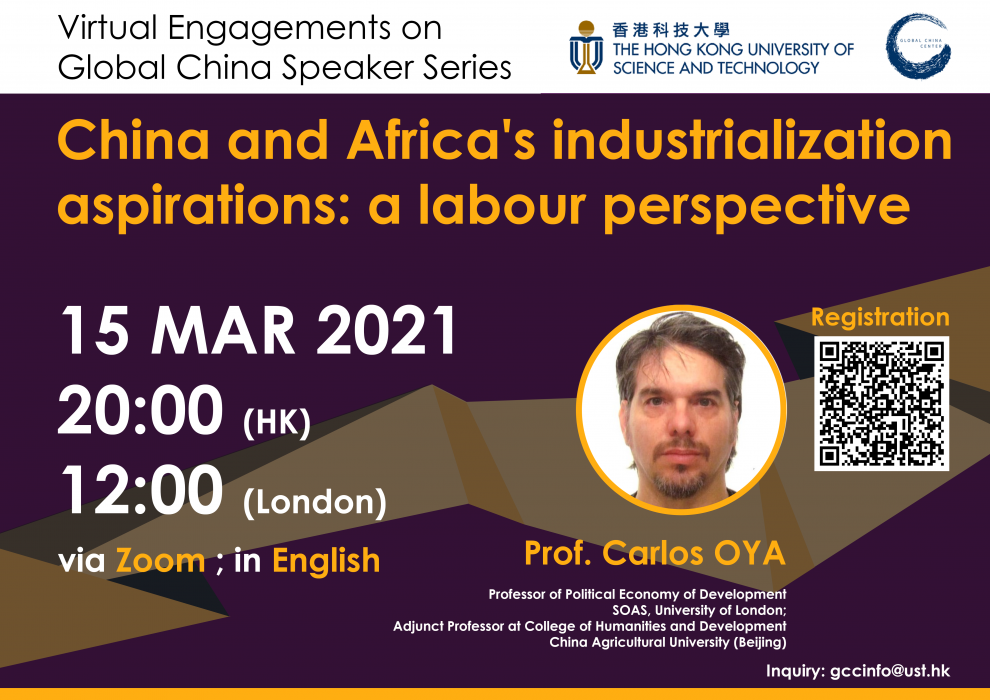 Abstract:
There are emerging claims that African countries will follow Asia in their industrialization drive and that Asian firms, notably from China, may act as catalysts of industrial transformations by investing and operating in Africa. This session will look at this new dynamics with a focus on employment outcomes, i.e. job creation for young Africans, working conditions and skill development from a comparative perspective. The main argument is that the creation of new jobs in manufacturing and infrastructure construction contributes to the process of structural transformation through the labour market but not without frictions and challenges. The building of an industrial workforce has never been harmonious.
About the speaker:
Carlos Oya (PhD) is Professor of Political Economy of Development at SOAS, University of London, and development economist by training. His main research interests are: labour relations and employment, agrarian political economy, development policy, poverty, and research methodology. Carlos has done extensive field-based research on contemporary labour market dynamics in various African countries, especially in Ethiopia, Mozambique, Angola and Senegal. He has recently led a project on structural transformations and employment outcomes in infrastructure construction and manufacturing sectors in Ethiopia and Angola, with a special focus on Chinese firms (www.soas.ac.uk/idcea ).